The top 10 records are not in any order these are just records that were thought to be to some of the best records of 2010 and we think are worth a listen. Let us know if you agree leave a comment!!!
Expendable Youth - The Exposing of the Immortal Person LP (Distro-y Records)
From the very get go this album is fantastic, this album is well crafted with energy running through the whole LP, very strong musically blending and mixing alot of different aspects of their music perfectly and with the vocals projecting the anger and feelings of the lyrics perfectly which hold their own a very anarcho social aspect. "Overall, it's a melodic, heavy, tight and shining example of punk evolution in practice."
The Old Punk
www.distroy.webs.com
Arctic Flowers - S/T EP (Self Released)
One of the bands of the year, with this 7" probably ending up somewhere in every top 10 punk their sound blends a mix of post-punk and anarcho creating a melodic catchy but powerful sound, that is just completely amazing.
http://www.myspace.com/arcticflowerspdx
Perdition - S/T 7"(Distort Reality)
Second 7" from New Yorkers is a powerful noisey 7" that has alot of energy charged up inside really bringing back the 80's in a record this release an absolute shock of a mix of Disorder from the UK and the early 80's Finnish bands of the likes of Tampere SS and Kaaoss and with dose of Japanese noise to add to effect.
www.myspace.com/distortrealityrecords
Electric Funeral - Make A Change Cassette (Distort The World Recs)
A band that in the 6 or 7 months have taken the noisey distort world by storm with so many release in such a short time but for me this has been the best so far, this is complete brutal noise played with a whole of lot distort, all the release have been great just this one in particular has stood out, it was combined with the first tape and released on
Shogun Records (France)
distorttheworldrec@gmail.com
Herätys - s/t LP (Not Enough)
What can you say that hasn't been already said in every zine and blog and mouth around the world, this is Hardcore at its very best it will be hard to claim anyother record that was released this year is better than this anyone who likes punk/hardcore should have this in their collection amazing,
www.notenough.se
KRIEGSHÖG – S/T LP(La Vida Es Un Mus)
This is it, The New Wave of Brutality and Hardcore Massacre has arrived and its the first full length LP of Tokyo Punks 'KRIEGSHÖG'. This is some booming hardcore that would be very hard to ignore. This sets new standards of hardcore.
http://www.lavidaesunmus.com
FINISTERRE – "bitter songs" – LP (Rinderherz, Contraszt, Halo Of Flies)
Crushingly emotionally epic record, that really grabs hold of you and takes into the record, with the emotion and passion that comes off this record you nearly get blindside by the power that Finisterre also posses.
Rinderherz - www.rinderherzrecords.ch.vu/
Contraszt! - www.diyordie.net/
Halo Of Flies - www.halooffliesrecords.com
The Estranged - Subliminal Man LP (Dirt Nap Records)
This is a some what catchy but altogether brilliant record with a well rounded sound of just prime 80s deathrock/postpunk. This record is so infectious you will not be able to stop listening to it.
http://www.dirtnaprecs.com/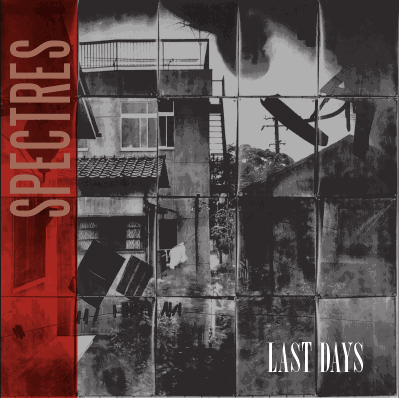 Spectres - Last Days LP (New Dark Age Records)
Bring a peace punk and post punk infused sound to the front with what I feel can only best be described as a mix of The Mob and Joy Division. Their is a some eerieness to the feel of the vocals and the sound over all giving a bit of a deathrock/gothic sound to the record. But it is a very powerful record that is not driven by a wall of distort just a collective sound that carries through.
http://newdarkagerecords.blogspot.com/
Easpa Measa/Divisions Ruin split LP (Distro-y Records)
Two of my favourite Irish bands got together to create a great split LP in which the passion the music is played and the lyrics are sung, just speaks for itself, this is some very captivating Crust//Hardcore
www.distroy.webs.com